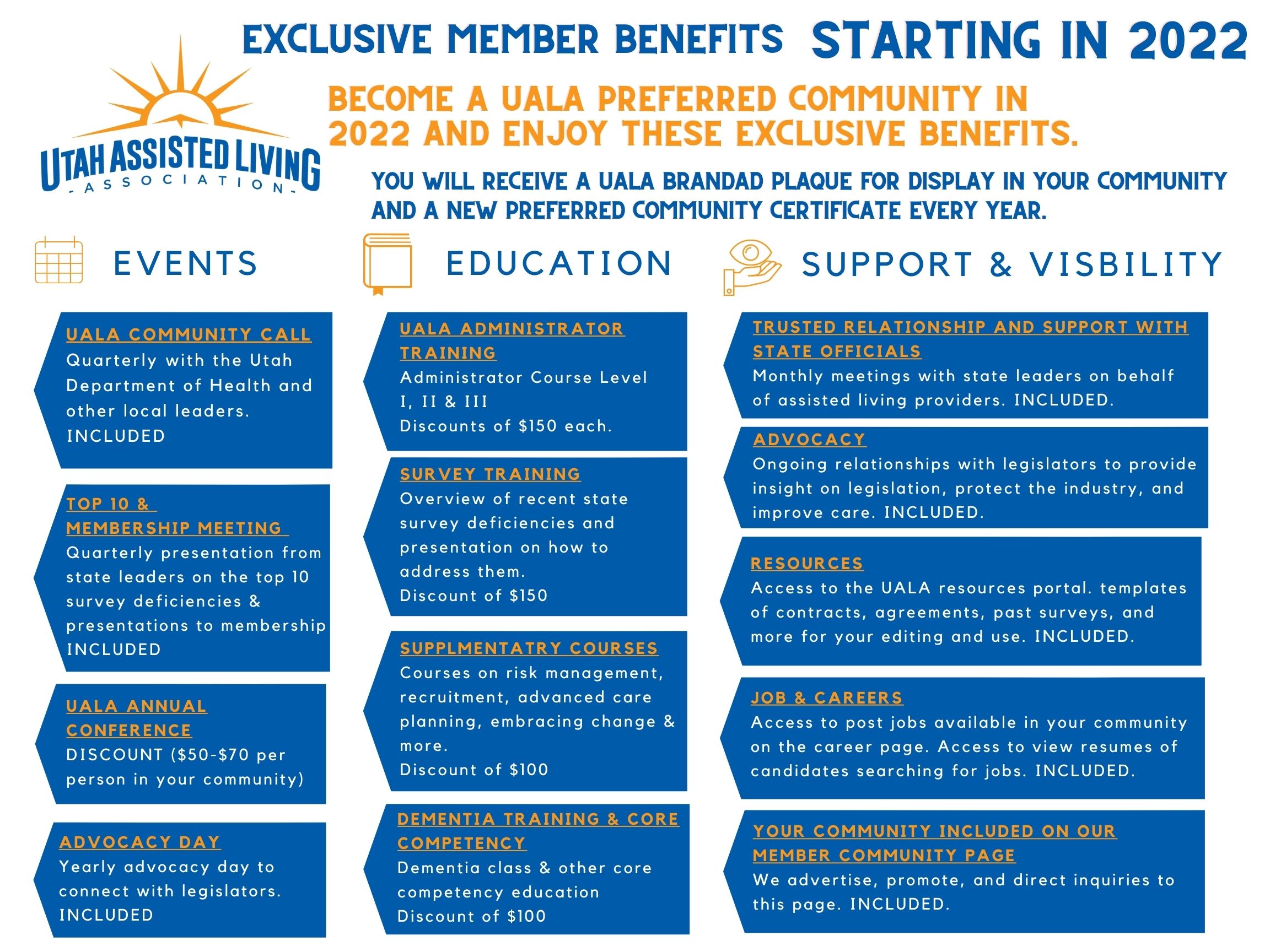 Who are UALA Members?
Range from small, independently operated communities to large, multi-national organizations, and from those that cater to an active lifestyle to ones that specialize in caring for residents with dementia.
What Has UALA Done Recently?
AL being recognized as unique. For a very long time, AL was included with SNF and not recognized as a different business or service. We now have influence with the state and an understanding that AL and SNF are different care providers.
We worked tirelessly and directly with the Department of Health to encourage vaccination priority, visitation during COVID, PPE, testing, and many more initiatives between UALA and the Department of Health.
UALA created a video showing appreciation for all of those in AL and to share how amazing it is to work in AL. This video reached 29,000 people.
We began a biweekly call with state leaders and AL communities. This allowed us to share information directly to communities, and answer questions or concerns that were happening.
Move our annual conference virtual. This wasn't what we had hoped for, but it was a successful event and we hope to offer more virtual education this year.
Advocacy - We have advocated for more relief funds for AL with a letter to the governor. You can read that letter HERE. We have also advocated against staff ratios in AL, CNA rules, regulations on home care and hospice agency selections and more. 
UALA is the only association dedicated to protecting Assisted Living communities specifically. Our sole focus is the residents, staff and leadership in the Assisted Living communities.
In addition to continuing the above and improving upon it. Below are additional benefits of being a UALA member:
Discounted and early access to Administrator trainings, membership meetings, community calls, top 10 deficiencies, and annual events.
Access to the upcoming resource dashboard for member communities. This will include samples of core competency training, administrative documents, mock surveys, marketing and activity ideas, and more.
Involvement in a PR push to encourage and support Assisted Living and ease any public concerns.
Legislative monitoring, statute & rule tacking and educating.
Allocated a significant amount of dollars to promote Assisted Living.
We hope to accomplish even more, and are always available to listen to your thoughts, questions, or concerns. However, we couldn't do it without the generous contributions of members just like you!
What Can UALA Do for You?
Here are just a few of the many benefits available to you as a UALA member:
Ensure compliance with laws not yet in regulation.

Gain access to "members only" tools, information, resources and expertise.

Utilize timely education, peer networking, and professional development.

Discounted pricing, CEUs, and networking opportunities at the UALA Conference.
Dues and Membership.
Assisted Living and Memory Care dues are based upon the number of licensed beds at each community: